This Shoal of Space:
Zoë Calla & the Dark Starship
(World's First E-Book—Published On the Web in 1996 For Digital Download)
a Dark SF novel originally titled Heartbreaker
by John Argo
---
Preface Chapter 1 Intralog Part I-Chapter 2 3 4 5 6 7 8 9 10 11 12 13 14 15 16 17 18 19 20 21 22 23 24 25 26 27 28 29 30 31 32 33 34 35 36 37 38 39 40 41 42 43 44 45 46 47 48 49 50 51 52 53 54 55 56 57 58 59 60 61 62 63 64 65 Part II-Chapter 66 67 68 69 70 71 72 73 74 75 Outlog
---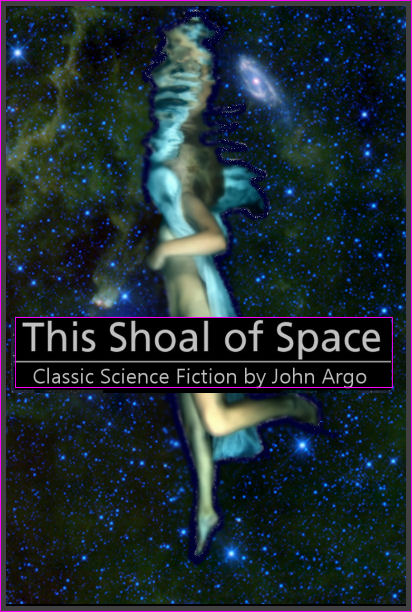 World's First E-Book
Setting the Record Straight
Main Page—Introduction
World's First True E-Book—You Are Reading It. Clocktower Books managed several pioneering firsts and some close seconds/thirds in the pioneering days of digital publishing on the World Wide Web. Let's carefully analyze what we mean by this claim. There were a limited number of digital books before this, but none was a proprietary (not public domain) novel (standard industry length, over 90,000 words) published on line in a digital format for electronic download (as opposed to being sold on CD-ROMs and other detachable, portable disk or tape media). There were short stories already being published in totally digital download form online—for example by Andy McCann at Planet Magazine. To our knowledge, This Shoal of Space (originally Heartbreaker by John Argo) was the first standard-length proprietary (not public domain) novel published online in digital formats (HTML and TXT) for download by readers around the world.
John Argo's First Published Short Story, in fact, appeared in 1997 in Planet Magazine Vol. IV (Control Game by John Argo). The illo for the story was done by Brian Callahan.
Title History of this Novel. Originally written in 1990, the novel was titled Heartbreaker. We published Heartbreaker online on The Haunted Village in innovative weekly serial chapters starting summer 1996. We changed the title to This Shoal of Space in 1998. This novel, and Neon Blue (suspense, published starting summer 1996 on Neon Blue Fiction) became a bestseller in 1999-2001 on early venues like Barnes & Noble (.com, their original e-book site, pulled down and not replaced until several years later). Another John Argo SF novel, Pioneers, published 1997 on The Haunted Village, was also a bestseller. Around 2000-1, early venues like Rocket eBook and B&N were discontinued. Soon after, by 2001-2, Clocktower Books shifted its e-book list to Fictionwise.com for a decade, until Fictionwise was acquired by Barnes & Noble and discontinued December 2012. All these novels, and many more, were consistently high on the sales charts at Fictionwise. Print on Demand (POD) versions were available to order online or in bookstores as well. Clocktower Books in the 2010s changed the heroine's name from Mary Shane MacLemore to Zoë Calla and the title of This Shoal of Space to Cold Bright: Zoë Calla & the Dark Starship. Around 2013 or 14, Clocktower Books changed the primary title back to This Shoal of Space, but retained the heroine's new name (Zoë Calla). Her son's name changed from Kippy to Max during these changes. A few minor characters also underwent name changes. The opening chapters were rearranged over the years, but remained essentially unchanged in content.
Early Virtual Reality (VR) Novel. This was an early virtual reality (VR) novel in the history of science fiction, several years before The Matrix and Dark City. Part of the VR premise in this novel may have been a first: networked microcomputers, as Personal Computers were known before they were PCs. The author, while working for General Dynamics in 1982, learned from COBOL programmers about the concept of virtual paging. This was a technology designed to overcome the extremely limited memory capacity of mainframes at that time. It worked by reading bits of code to be executed on the fly, in and out as required by the processing of modular code. This, one might say, fooled the computer into thinking it had the entire program (thousands of lines of code) in memory, whereas the system only had the small lines or modules needed for the next few operations. This led John Argo's imagination to conjure up entire worlds of virtual reality, thus anticipating novels and films yet to come later in the decade. Admittedly, the term virtual reality was in the air and already existed to some extent in the nascent gaming world, of which the author knew nothing.
Innovative Weekly Serial Chapters. In publishing this novel and Neon Blue in summer 1996, Clocktower Books pioneered the innovative use of weekly serial chapters for downloads, which gave readers something to look forward to each Monday morning at work or whatever (one lady at an office in Joburg, South Africa was especially charming in her kind commments). We offered the option, which was often taken, of downloading the entire novel if the reader somewhere on the globe could not wait to read the ending. It was a lot of fun. Relatively few readers had personal computers at home, much less Internet (Web) access, yet less likely anything faster than a 12-BAUD telephone modem. Clocktower Books provided lean, fast files (TXT) for download. Brian Callahan was a stickler for light images that would quickly download, which was an art within the arts in itself. We offer the same novel here for your free reading as a museum piece, little changed from its debut in 1996.
Copyright © 1990-2013 by John Argo. All Rights Reserved.